Toshiba Memory Corporation Unveils World's First[1] Enterprise SSDs Utilizing 64-Layer, 3D Flash Memory
TOKYO - Toshiba Memory Corporation, the world leader in memory solutions, today unveiled the development of the world's first[1] enterprise SSDs utilizing 64-layer, 3D flash memory. The two new product lines, the PM5 12Gbit/s SAS series and the CM5 NVM Express™ (NVMe™) series, utilize Toshiba Memory Corporation's BiCS FLASH™ 3D flash memory, allowing today's demanding storage environments to expand the use of flash memory with cost-optimized 3D flash memory. With all-new, advanced feature-sets, the innovative PM5 and CM5 series raise the bar for performance capabilities and create new opportunities for businesses to leverage the power of flash storage.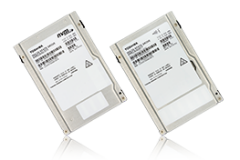 Sample shipments to OEM customers for evaluation purposes start today in limited quantities, and Toshiba Memory Corporation will gradually increase shipments from the fourth quarter of this calendar year. The new products will be exhibited and demonstrated at the Flash Memory Summit 2017 in Santa Clara, California, USA from August 8 to 10, at Booth #407.

The PM5 series will be available in a 2.5-inch form factor in capacities from 400GB to 30.72TB[2], with endurance options of 1, 3, 5 and 10DWPD (drive writes per day). The broad endurance and capacity ranges of SAS SSDs will enable data centers to effectively address big data demands while streamlining storage deployments. With the industry's first[3] MultiLink SAS™ architecture, the PM5 series is able to deliver the fastest performance[4] the market has seen from any SAS-based SSD, with up to 3350MB/s[5] of sequential read and 2720MB/s of sequential write in MultiLink mode and 400,000 random read IOPS[6] in narrow or MultiLink mode. The PM5 series' 4-port MultiLink design is an additional technology to achieve high performance, similar to PCI EXPRESS® (PCIe®) SSDs, enabling legacy infrastructures to increase productivity without re-architecting from the ground up. Furthermore, PM5 SSDs support Multi-Stream Write Technology, a feature that intelligently manages and groups data types to minimize write amplification and minimize garbage collection, translating into reduced latency, improved endurance, increased performance and QoS.

The CM5 series will be available in a 2.5-inch form factor in capacities from 800GB to 15.36TB, and as an add-in card type form factor with endurance options of 1, 3 and 5DWPD. Positioned as the next generation NVMe SSD, the dual-port PCIe Gen3 x4 CM5 is a full-featured enterprise SSD, NVMe over Fabric-ready with scatter-gather list (SGL) and controller memory buffer (CMB) features. Furthermore, the CM5 series will be the first to enable the Persistent Memory Region (PMR) feature for customers looking to augment system memory without the use of expensive Non-Volatile DIMMs (NV-DIMMs) in their servers. PMR makes it possible for a single SSD solution to provide both high performance storage and persistent memory to meet system performance requirements[7] while significantly reducing costs. The CM5 series has excellent performance with up to 800,000IOPS random read and 240,000 (5DWPD model) and 220,000 (3DWPD model) random write IOPS at a maximum power draw of 18W. Like PM5 SSDs, the series also supports Multi-Stream Write Technology.
NVMe and NVM Express are trademarks of NVM Express, Inc.

MultiLink SAS is a trademark of the SCSI Trade Association.

PCI EXPRESS and PCIe are registered trademarks of PCI-SIG.

All other company names, product names, and service names mentioned herein may be trademarks of their respective companies.
Notes:
[1] As of August 8, 2017, Toshiba Memory Corporation survey.
[2] Definition of capacity: Toshiba Memory Corporation defines a terabyte (TB) as 1,000,000,000,000 bytes. A computer operating system, however, reports storage capacity using powers of 2 for the definition of 1TB = 240 bytes = 1,099,511,627,776 bytes and therefore shows less storage capacity. Available storage capacity (including examples of various media files) will vary based on file size, formatting, settings, software and operating system, such as Microsoft Operating System and/or pre-installed software applications, or media content. Actual formatted capacity may vary
[3] As of August 8, 2017, Toshiba Memory Corporation survey.
[4] As of August 8, 2017, Toshiba Memory Corporation survey.
[5] Read and write speed may vary depending on the host device, read and write conditions, and file size.
[6] IOPS: Input Output Per Second (or the number of I/O operations per second)
[7] Examples include moving part of metadata operations, such as logging, journaling and application staging to the NVMe SSD.
Information in this document, including product prices and specifications, content of services and contact information, is correct on the date of the announcement but is subject to change without prior notice.